Competition Results
The winners of the competition have be decided by a board of judges after a careful evaluation of both paper presentation and demonstration of the tool. A detailed report on performance of all competitors is available as a PDF file. The following two tools were awarded:
itSIMPLE 3.0
by Tiago Stegun Vaquero, José Reinaldo Silva, Marcelo Ferreira, Flavio Tonidandel, J. Christopher Beck
The itSIMPLE 3.0 system showed as a prominently robust and comprehensive system capable to effectively support engineers and scientists in modeling domains, planning on them and analyzing the outcomes of planning activities, by means of user-friendly GUI interfaces and taking the well-known UML standard as the key representational means. The system encompasses a variety of functionality and interfaces, and clearly incorporates a large wealth of work carried out since its first inception, four years ago. While not focused on a specific applicative area, the tool has been exploited in several applicative fields, witnessing the strength of this workbench and its potential to significantly widen the forum of the users of planning techniques.

JABBAH
by Arturo González-Ferrer, Juan Fernández-Olivares, Luis Castillo
The JABBAH system provides a neat tool for analysts that need to perform resource allocation analysis on business workflows, embedding a non-trivial transformation of BPMN-expressed workflows in terms of Hierarchical Task Networks. By providing a fully automated support of the analysis, allowing engineers to exploit the vastly diffused Business Process Management Notation (BPMN) standard for workflow specification, and neatly presenting the results, this system may appeal a very wide and relevant audience. Hencefore, JABBAH may have a considerable potential impact outside the planning community. Furthermore, the system appeared solid and well usable, and in general scored well under the criteria considered in ICKEPS'09.
Congratulation to the winners and thanks to all other competiting teams for their contribution.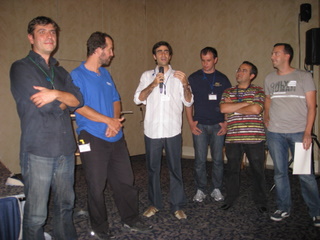 The board of judges:
Simone Fratini - ISTC-CNR, Italy
Piergiorgio Bertoli - Fondazione Bruno Kessler, Italy
Adi Botea - NICTA and The Australian National University, Australia
In conjunction with the International Conference on Automated Planning and Scheduling (ICAPS-09)
Organizers
Roman Barták, Charles University, Czech Republic
contact email: bartak (AT) ktiml.mff.cuni.cz

Simone Fratini, ISTC-CNR, Italy
contact email: simone.fratini (AT) istc.cnr.it

Lee McCluskey, University of Huddersfield, UK
contact email: lee (AT) hud.ac.uk
Programme Committte
Sara Bernardini
London Knowledge Lab, UK
Amedeo Cesta
ISTC-CNR, Italy
Stephen Cresswell
University of Huddersfield, UK
Stefan Edelkamp
University of Bremen, Germany
Susana Fernandez Arregui
Universidad Carlos III de Madrid, Spain
Jeremy Frank
NASA, USA
Antonio Garrido
Universitat Politecnica de Valencia, Spain
Robert Goldman
SIFT, USA
Arturo Gonzalez Ferrer
Universidad de Granada, Spain
Peter Jarvis
NASA, USA
Ugur Kuter
University of Maryland, USA
Clayton T. Morrison
The University of Arizona, USA
Julie Porteous
University of Teeside, UK
Tiago S. Vaquero
University of Sao Paulo, Brazil
Dimitris Vrakas
Aristotle University of Thessaloniki, Greece
Board of judges
Simone Fratini
ISTC-CNR, Italy
Piergiorgio Bertoli
Fondazione Bruno Kessler, Italy
Adi Botea
NICTA/ANU, Australia